Do you want to turn your LinkedIn profile from average to excellent?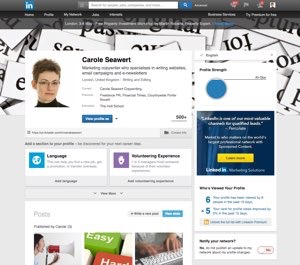 LinkedIn is a powerful online business tool with around 400 million users worldwide. But are you making the most of your presence there?
If your LinkedIn profile has not reached the 'All Star' level of completeness, then you are missing potentially valuable business opportunities.
I know that writing about yourself is hard. You basically have to blow your own trumpet. So why not get someone else to sell your skills, expertise and experience?
I can create a powerful LinkedIn profile for you that:
Engages with the audience you want to reach
Positions you as an expert in your field
Showcases your strengths
Highlights your skills and expertise
Contains the correct keywords so you come up in searches
Tells your professional story
Helps you stand out from the crowd
I will write it in a jargon-free way that's clear, concise and convincing.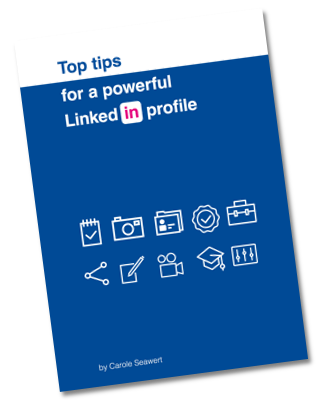 FREE


bonus
for you

When you buy my LinkedIn writing service, you will receive a compelling new profile that includes a brand new headline title and summary, as well as descriptions showing your achievements in your three most recent jobs. In addition to this, I show you what else you can do yourself to keep on improving your LinkedIn profile. This bonus hand-out will show you step-by-step what you can do to continue to build a truly powerful ongoing presence on LinkedIn.
Transform your presence on LinkedIn and stand out from the crowd
Here's how it works
You will receive a detailed questionnaire from me with around 30 questions that you need to fill in. The answers you provide will help me to focus on your skills, strengths and achievements. It will also help determine your reason for being on LinkedIn – whether that's to search for a new career opportunity, attract new business, network more effectively etc.
You email the completed questionnaire to me, along with your CV
If I need to clarify anything, we will schedule a phone call.
I will then write a compelling profile for you. This includes your headline title, your summary and the work history for your three most recent positions.
When I email your profile (in a Word document), I will also give you my free hints and tips e-book that explains all the other things you can add to make your presence on LinkedIn seriously impressive.
Once you've uploaded the profile I send you and you've added extra elements where necessary, we will schedule a review session where we can discuss any edits or changes you'd like to make.
The price for transforming your LinkedIn profile into a powerful business tool is £297 (+ VAT if you are in the EU).
This service is not for you if:
You aren't prepared to fill in the questionnaire I send you
You don't value LinkedIn as a business tool
You already have an impressive profile on LinkedIn that you are proud of
What others say
Here's what others say who have benefited from my LinkedIn profile writing service:
"Carole is a creative copywriter who gets to understand through her listening and questioning skills what you want to put across and how it will land with your target audience. She has good attention to detail. She worked with me on my LinkedIn profile. I can recommend Carole."
Debbie Scola
"Carole is an excellent copywriter who has very intuitive listening skills. She has assisted me in writing my LinkedIn Profile and I was very impressed with how she approached the task. From a short meeting, she is able to collate your strengths and experience into a summary which really sums up the message required to reach your target audience. She is very perceptive and her experience means that she 'gets' what you and your business need immediately. I can highly recommend Carole to drive you and your business forward through assisting with your LinkedIn profile."
Suzie Rendle
"Carole's experience as a writer and SEO is invaluable when trying to ensure that you are giving yourself the best chance of being found on LinkedIn. The advice and suggestions she gave were spot on and have helped improve my visibility and I feel more confident that I am viewed in the best light online."
Richard Lamping